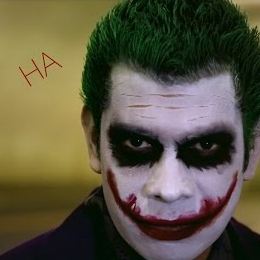 Hey everyone! For Halloween, Red decided to be the Joker so I'll be helping him with his makeup! Let's get started

You'll need:
 Temp green hair spray
Black, orange and white face paint (Mehron)
Red lipstick
Step 1: Start off with a clean face! First you'll want to apply some temporary green hair spray
Step 2: Apply Mehron's white face paint to your face (except for your forehead). Crease your forehead then paint over them to get those next head creasesStep 3: Use some setting powder to set in the face paint
Step 4: Apply Lime Crime's red velvet lipstick to the lips!
Step 5: Extend the lipstick to your cheekbones and while it's wet, smudge it
Step 6: Apply black face paint around the eyes and smudge the outer edges
Step 7: Add some red creases around his mouth and smudge
Step 8: Add some orange around his mouth and smudge
Step 9: Add some black around the outer edges of your lips and inner lip opening to achieve a "torn" effect. The Joker doesn't have this so it's your choice to include it
And we're done! Add your costume (Red got his at Hot Topic) and it's finished!!
And here's the vid if you prefer that!

The post The Joker Cosplay – Makeup Tutorial appeared first on iHasCupquake.