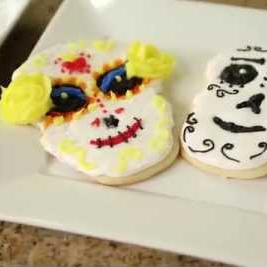 Hey everyone! As Halloween gets ever closer, I get more and more inspired to do Halloweeny stuff! This is where these awesome Sugar Skull cookies come into play which are inspired by  The Book of Life movie! Let's get started

You'll need:
• Sugar cookie mix     • Sugar Skull cookie cutter      • An egg     • Butter     • Various color icings     • Baking sheet     •  Flour    • Scissors

Step 1: Start by making your mix! Add 1 egg, a stick of butter and the cake mix. Then, mix together well
Step 2: Powder a surface with flour as well as your rolling pin. Next, start rolling out your cookie dough with the pin, nice and gently, to a 1/4-inch thickness
Step 3: Using your sugar skull cookie cutter, cut out skulls and place them carefully on a baking sheet
Step 4: Bake 5-7 minutes at 350 degrees Fahrenheit! Once they're out, you can re-cut them with the cookie cutter if you want hard edges
Step 5: Once the cookies are cooled down, it's time to begin decorating! Start by making Manolo's upside down heart nose, followed by 2 circles for eyes and a u shape for his mouth
Step 6: Outline and fill in the whole skull with white icing
Step 7: Now it's time to work on La Muerte! Start by making large ovals for her eyes, the opposite kind of nose of Manolo, white icing around the skull, followed by white sprinkles on the whites of her face. Then place some blue icing for her eye shadow and yellow icing/sprinkles for her eyes. Then begin to make orange circles around her eyes
Step 8: Continue decorating La Muerte – feel free to use her image as a reference
Step 9: Continue decorating Manolo also making sure to make the black markings on his face
Step 10: Begin making La Muerte's signature yellow flowers by using a 103 tip for your icing. Start by making a circular base in the middle and then making arches around the center while spinning your circular base
Step 11: Transfer your flowers
And we're done! Here's the final results
Feel free to check out the vid below!

The post The Book of Life: Sugar Skull Cookies – Quake n Bake appeared first on iHasCupquake.