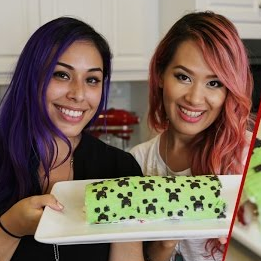 Hey everyone! For this Quake N Bake, we'll be making some delicious Minecraft Creeper Roll Cake with AnneOrShine! Let's get started!
You'll need:

Heavy whipping cream


White granulated sugar


White chocolate morsels

Eggs


Black and green food dye


Confectioner sugar

Butter


Flour


And strawberries!
Step 1: First, we need to prepare the white chocolate ganesh! Add one cup of heavy whipping cream into a pan and bring to a simmer
Step 2: Pour 1.5 cups of white chocolate morsels into a bowl and pour the simmering whipping over the chocolate. Melt and stir well. This mixture will be the filling
Step 3: Cling wrap the bowl and store in the fridge for 1 hour
Step 4: Get one egg and separate the white from the yolk. Put the egg white in a bowl and once it starts getting bubbly, add 30g of granulated sugar, 40g of all purpose flour, and 1 1/2 Tbsp of butter. Mix well
Step 5: Add some black food dye and pour into a piping bag
Step 6: Pull out your Minecraft Creeper template and place under your parchment. Pipe the creeper face on the parchment. Chill in fridge for about an hour afterwards
step 7: Pull out your white chocolate + whipping cream from the fridge and pour into your electrical mixer bowl. Whip for about 1.5 mins. This is how it should look
Step 8: Separate 4 egg yolks from their egg whites. Beat and mix both the yolk bowl and white bowl. Once the egg white is fluffy, slowly add 1/2 cup + 1 Tbsp of Sugar. Once that is fully mixed, add 1 Tsp cream of Tartar. You'll know it's ready once it forms soft peaks like so:
Step 9: Add the egg yolk to our main mixture. Then proceed to add 1/2 stick + 1 Tbsp of melted butter, 1/2 cup of flour, and a small amount of leaf green food dye to the mixture. Afterwards, pour this green mixture over your creeper face template (remove the paper underneath!). Pour evenly, then bake for 7mins at 400 degrees
Step 10: Wash and chop some strawberries, which will represent the creeper's TnT
Step 11: Grab a portable surface that your cake will fit on and place some parchment over it. Sprinkle some confectioner sugar over it and flip over your baking sheet onto it. Peel the creeper parchment . Flip it back over and spread the chocolate ganesh over it
Step 12: Place your chopped strawberries on the ganesh and then roll it! Roll away from you and start with the part with no design.
We're done! Here's the final result!
You can check out her channel here – https://www.youtube.com/user/anneorshine
Thanks for reading and watching! <3

The post Minecraft Creeper Roll Cake w/AnneOrShine – Quake n Bake appeared first on iHasCupquake.