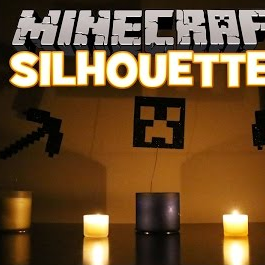 Hey everyone! Halloween is just around the corner so I decided to make a DIY GG based on these spooky Minecraft Silhouettes! Let's get started

You'll need:
• Heavy duty paper     • Exacto Knife     • Ruler     • Wire     • Wire Cutters     • Candles     • Scissors
Step 1: Grab your heavy duty paper (I'm using one that has glitter on it that I got from Michael's) and make 5×5 inch boxes on the back side of them using a ruler and a pen. Cut them out afterwards
Step 2: Using the Minecraft template found here (Creeper & Pickaxe), draw the template on the backside of your 5×5 inch square. Once done, place the square on a cutting board and cut out your template using an exacto blade and ruler (Be careful with this part! Once your blade starts to become dull, be sure to use a new one)
Step 3: Pop out the excess carefully
Step 4: Using your wire, follow the base of your candle and then make a stem by erecting the wire straight upwards. You can play around with the height here. The stem height will determine how high or low your shadow will fallStep 5: Once you like the stem height, cut it off using your wire cutters. Bend the top portion of the wire, 90 degrees and hot glue that portion to the back of your cut out
And that's pretty much it! The smaller candles work a tiny bit better because they emit less light and make a better shadow for our creeper and pickaxe
Here's the video if you prefer that!

The post Minecraft Silhouettes – DIY GG appeared first on iHasCupquake.