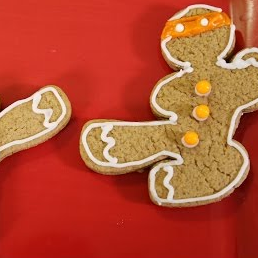 Hey everyone! I love this time of year and decided to make some simple and awesome Ninjabread men cookies to celebrate the season! I got the kit from Thinkgeek which includes cookie cutters, cookie mix, piping bag and more!
Let's get started!
Step 1: Combine cookie mix, 1/4 cup of honey, 1/4 of a stick of butter, and 1 tsp of water. Mix well
Step 2: Clump together into a ball, wrap it with clear wrap and place in fridge for 30 minutes
Step 3: Powder your rolling surface and then begin rolling out your dough with a rolling pin
Step 4: Cut out your figures using the cookie cutters included in the ninjabread kit
Step 5: Using a spatula, place on baking sheet with parchment paper underneath
Step 6: Once the cookies are out of the oven, time to start decorating! We're using some icing we already had (instead of making the one included in the kit) and we're using a no.2 tip
And once we're done decorating, we're all done! Here are our Ninjabreadmen!
And here's the vid if you prefer that!
The post TEENAGE MUTANT NINJABREAD MEN – Quake n Bake appeared first on iHasCupquake.