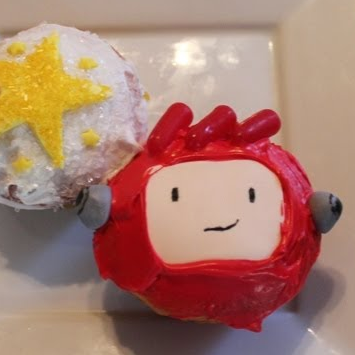 Hey Everyone! Today we're going to be making some Scribblenauts Cupcakes! As some of you may know, Scribblenauts Unlimited is an Action/Puzzle game where the main character Maxwell has to lift a curse that his sister Lily has. It's an awesome game so check out some of my gameplay videos if you want to take a look!
You'll want to have your cupcakes already made
Next, you'll want to mix some white and red frosting
Now prepare your fondant. We're going to be making grey, yellow and beige
Roll out your yellow fondant and use a star cookie cutter to cut out some stars
Get a bowl and a paintbrush – we're going to apply some water to the stars and add some sprinkles
Roll out your beige fondant and let's cut out some rectangles. These are going to be used for Maxwell's face. Round the corners of the shape with your fingers
Maxwell's wears little headphones so let's make some oval shapes
Let's add some dimensionality to our headphones by drawing a black circle with an outline (using gel food coloring)
Now that all our fondant pieces are done, we can now begin to assemble our cupcakes!
Use the red icing for Maxwell and put his face on. You can apply some more frosting to make it look like he is wearing his hat. Apply some hot tamales for the 3 protruding things coming out of his head. Put his headphones and draw his face with an edible food marker.
Let's ice our star cupcakes with white icing. Add some white sprinkles to make our cupcakes really shine. Apply the yellow star on top. For the last step, add some small star sprinkles around our big star
We're all done! These came out AMAZING! Be sure to tweet me an image at @ihascupquake if you try it!
Thanks for watching
The post Scribblenauts Cupcakes appeared first on iHasCupquake.