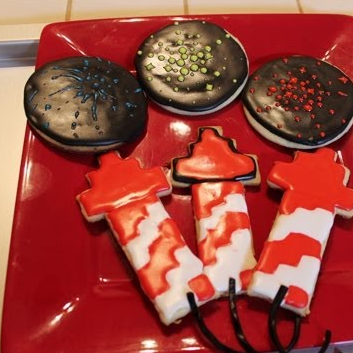 Hey Everyone! Happy New Years! To celebrate 2013, I am making some Minecraft Firework Cookies that many of you suggested
Some of the things you will need:
Sugar cookie dough
Three cookies in the following shapes: circle, square, and rectangle
Begin by rolling out the sugar cookie dough on flour
Let's cut out some circles and place them on the cookie sheet
Cut out some squares and rectangles and place on cookie sheet. Merge the seam with your fingers
We want our firework cookies to resemble their counterparts in Minecraft so we will use a knife to make a pixelated triangle shape!
Bake and once the cookies come out, you'll want to start icing the circle cookies. Use a toothpick to spread the icing evenly
Set aside our circle cookies and let's begin decorating our rocket cookies. Use orange icing and begin apply it in staircase fashion.
Fill in the remaining space with white icing. For the final step, apply black licorice on the white icing near the edge.
Once the brow icing has dried on our circle cookies, we'll finish off our explosion cookies by decorating them. The dots/circles are more concentrated in the middle and are less present near the edges. The are some crosses, so be sure to put some in the circle
Love loved loved the way these came out! Have a Happy New Years Everyone and be Safe! If you decide to try this QnB, be sure to tweet me an image at @ihascupquake ! Thanks for watching
The post Minecraft: Firework Cookies appeared first on iHasCupquake.