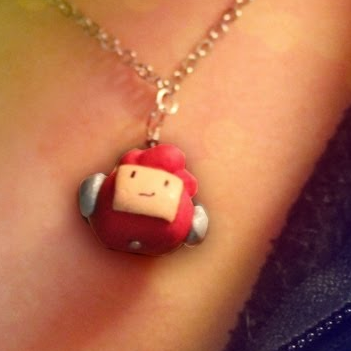 Hey Everyone! I've been playing a ton of Scribblenauts so I wanted to make a charm out of Maxwell's head! Let's get started.
Grab some red polymer clay and roll it into a ball first, then roll it into an oval. Next, form three more smaller ovals. One should be larger than the two.
Place these ovals on top of the head of Maxwell (Largest oval). Place the largest of the three smaller ovals on top of his head and the two smaller ones next to it. This will form the basis of Maxwell's hat. Use a tool to blend the ovals in.
Cut out a piece of flesh colored clay. Roll it out to flatten. This rectangle will serve as Maxwell's face.
Place the rectangle on Maxwell's head. Make two silver colored clay balls. Cut in half; these will serve as Maxwell's headphones.
Press in the headphones. You can use a tool to blend any areas you think need blending.
Drive a head pin through the center of his head. Try to center it over the top middle oval.
Bake it! (Refer to your material's baking instructions)
Let's loop the top using pliers.
Paint/draw in his face – two eyes and a smirk.
We're all done! These came out INCREDIBLE! I hope you guys and girls try it out! And if you do, tweet me an image at @ihascupquake
Thanks for watching !
The post Scribblenauts Charm appeared first on iHasCupquake.