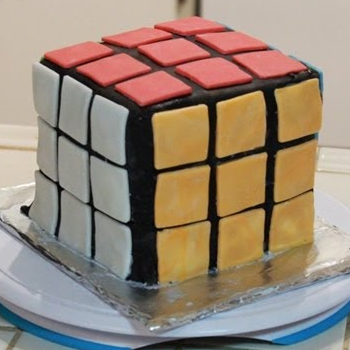 Hey Everyone! For this Quake N Bake, we'll be making a Rubiks Cube Cake! I'm a really big Rubiks Cube Fan so I thought it'd be awesome to make a cake counterpart! Let's get started!
It's going to be a 3-layer cake so I used two boxes of premade white cake mix (It actually makes 4 layers but we can save one for later to make cake pops)
Let's lay down the first layer on some tin foil and slice a portion of the top off (Do this for all 3 layers – it makes it easier to stack)
Now ice the tops of each layer and ice the sides of the whole cake
Let's roll out our fondant. We're going to need several colors – black is the hardest to make so I bought Satin Ice, a premade black fondant (link in the descrip.)
We're doing Red, Green, Blue, Orange, and White (Sorry Yellow!) fondant
Take out a cookie sheet and pour some powdered sugar on it. Then begin rolling out your black fondant, careful to turn over every couple of rolls so it doesn't stick
Transfer your fondant onto your rolling pin and drape over your cake slowly and smooth out
Let's start making and rolling out our other fondant. We're going to be using a medium sized square cookie cutter to make 9 pieces for each color
Begin placing the squares, as evenly as possible using icing as your adhesive
Do the same thing to every color. With a clean brush, you can clean off any extra powdered sugar. You can also brush some vodka (those of age!) on the black to make it stand out more.
We're all done! I hope you enjoyed watching me make a object I adore! As always, if you decide to try this tweet me an image at @ihascupquake
Thanks for watching!
The post Rubiks Cube Cake – QnB appeared first on iHasCupquake.