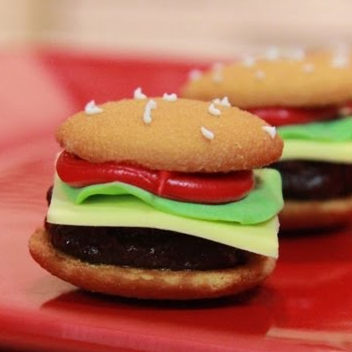 Hey Everyone! For this Quake N Bake, I didn't feel much like baking so we're going to make something simple with my favorite crackers, Nilla! We're going to be making Mini Hamburger cookies which look super cute when finished! Let's get started!
I'm going to start with the ganache. For the ganache, you'll need:
Heavy whipping cream
8 oz of semi sweet chocolate morsels
And some unsalted butter
Let's combine our 2 TBSPs of unsalted butter with the 8 oz of whipping cream in a pan and bring to a boil
Pour your chocolate morsels into a clear mixing bowl. When the butter and whipping come to a boil, pour the mixture over your chocolate and let it melt
Mix it gently so you don't get any air bubbles
Once it is well mixed, put into the fridge to chill
Let's start rolling our green (lettuce) and yellow (cheese) fondant. We're using a circle cookie cutter for the lettuce (we're going to shape with our fingers) and a square one for the cheese.
Let's start assembling our burgers. The ganache will serve as our patty. We're going to use red icing as ketchup
 And our last step, we'll use white icing to make sesame seeds for the bun
We're all done!! Love the way these came out! If you try this, tweet me an image at @ihascupquake
Thanks for watching!
The post Mini Hamburger Cookies – QnB appeared first on iHasCupquake.