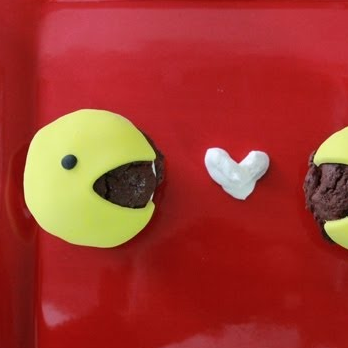 Hey Everyone! In this episode of Quake N Bake, we're going to be making Pac Man Whoopie Pies! This is a first for a QnB, as I have not featured whoopie pies before so let's learn together!
You're going to need:
1 3/4 cup of flour
3/4 cup cocoa powder
1 tsp baking powder
1/4 tsp baking soda
Wisk it together
Now add 3/4 cup of salted butter
Mix until creamy
Next add 3/4 cup white sugar
Mix until creamy again. Now add 1 egg and a tsp of vanilla extract. Mix afterwards
 In a separate bowl, add 1/2 cup of water and 1/4 cup of buttermilk (liquid or powder)
Now mix both mixtures and pull out a non stick pan
Place a dollop sized amounts of dough about 2 inches apart on your cookie sheet or pan
With your finger, add a small amount of water and round out the top of each dollop. Bake for 8-10 min
While it's chilling, we're going to prepare our filling. The filling is:
1/4 tsp salt, a tsp of hot water (make sure the water melts the salt). In our other mixing bowl, add 1/2 cup marshmallow fluff and 1/4 cup of vegetable shortening, 1/4 cup of powdered sugar, 1/4 cup of vanilla extract, and your mixture of salt water. Add together and mix
Let the cookies cool. Before we assemble the pies, we're going to do the Pac Man decorations.
Start by preparing your Pac Man yellow fondant. Once you are satisfied with the color you mixed (fondant + gel dye), roll out on a surface that has powdered sugar. Grab a circle cookie cutter (one larger than your cookies) and cut out the fondant.
After you cut out your circles, take a triangle cookie cutter and cut out his mouth (go to the center of the center and cut)
Carefully put Pac Men over their respective cookies, smooth the edges so they drape nicely. Then add a ball of black fondant for his eye
We're also going to make Mrs. Pac Man so add another smaller black fondant circle for her mole. Dab a small amount of icing and add two heart sprinkles for her bow and use the same method to add a blue eye
Grab a bare cookie, ice the top and add a decorated cookie on top
We're all done! These came out soooo great! The only tricky part is sizing the circle of pac man so it covers the cookie. If you try this, tweet me an image or leave an image on my facebook page!
Thanks for watching!
The post Pac Man Whoopie Pies – Quake N Bake appeared first on iHasCupquake.