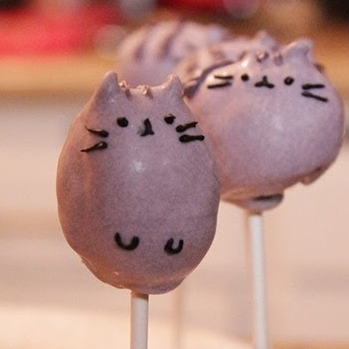 Hey Everyone! For this episode of QnB, we're going to be making some Pusheen the Cat Cake Pops

For those of you who don't know who Pusheen is, she is an cute egg shaped cat and you can see more more of her at her Tumblr, which I'll link in the video description. Let's get started!
The first step is making sure you already have the actual cake pops prepared, in their undecorated state
I still have some white chocolate candy melts left over from the previous QnB so I'm going to be using that as a base. Let's melt them
Mix in a small amount of black food dye to make a gray
Make holes on the cake pops, then dip your cake stick and insert the stick into the hole once again the adhere the stick to the cake
Take a toothpick, dip it in the chocolate and make small circles with the chocolate. Then grab small chocolate morsels which will act as ears
Dip Pusheen into the chocolate!
Add more black into the chocolate and pour into a piping bag
Let's start decorating the body
More decorations

You can pull up a picture of Pusheen for reference
Mandatory whiskers!
Pusheen the cat is finished! These are easy to make and cute to look at! If you decide to make these, tweet me a picture or add one to our facebook page! Thanks for watching

The post Pusheen the Cat Cake Pops – Quake N Bake appeared first on iHasCupquake.