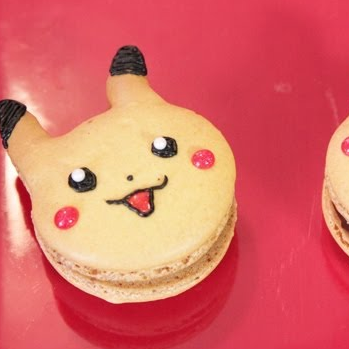 Hey Everyone! I've been getting a lot of requests to do something Pokemon related, which I have done, BUT I haven't done anything Pikachu yet! So we're going to be making some Macaroons by everyone's favorite little electric shocker! Let's get started!
As some of may know by watching some of the other Quake N Bakes, Macaroons are a little bit hard to make, but practice makes perfect!
First we're going to make the Marang whip. You'll need: 3 egg whites, 1/4 cup granulated sugar
Let's beat for 8-10 mins, until it's thick, fluffy and has a peak at the top
Now add 1/4 tsp cream of tarter and a pinch of salt, then mix
It should now look like this. Next, add a small amount of yellow food dye. Mix for 20 seconds
Now get 2 cups of confectioner sugar, 1 cup of almond flour and Sift together (remove the lumps)
Add this mixture with our egg white mixture
Now this is the tricky part!

Fold in the mixture. This is a picture at 48 folds
Let's get some cookie sheet parchment and place it down on our baking sheet. Grab something circular (I grabbed my cream of tartar container) and make circles on the parchment for Pikachu's head. Freehand his ears
Get a piping bag and begin to pipe Pikachu's head/ears. Use a smaller tip for Pikachu's ears
Bang the cookie sheet on the table to let out any air bubbles
Add 1/2 cup of heavy whipping cream
Bring to a boil
Pour it over your chocolate Morsels and melt
Your Macaroons should look like this out of the oven
You'll need black, red and white icing to decorate our yellow friend's face
This is the fun part! Use different pictures of Pikachu as reference
Our ganache should look like this. Fill up the Macaroons with this mixture
We're all done! Looooove the way these turned out! The only thing is that they take long to make so set apart 3 hours to make these! If you decide to try these tweet me an image or upload it to our facebook page! Thanks for watching

The post Pikachu French Macaroons – Quake N Bake appeared first on iHasCupquake.