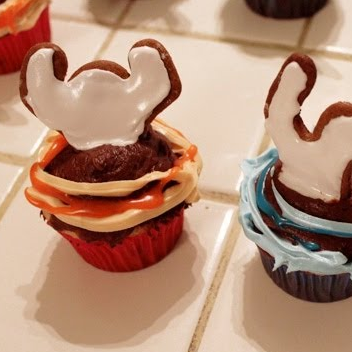 Hey Everyone! Red and I did a co-op playthrough of Portal 2 a while back, so we decided it'd be awesome to make some Portal 2 cupcakes

We start by baking and having our cupcake base ready to apply the icing and Portal men.
The gingerbread is a little sticky so adding some flour is essential. Once you have rolled out the gingerbread dough, we'll use our Portal 2 cookie cutters (from thinkgeek.com) to cut out our Portal men.
Let's bake them!
Afterwards, apply the icing. We'll need to icy the base layer with some chocolate icing. Next, lets ice the the portal with blue icing and more blue cookie icing to add some more dimensionality to the portal
Red icing his orange cupcake
Let's start icing our portal men
And finally, let's stick them in the cupcakes!
These came out great! If you try this QnB, be sure to tweet me an image at @ihascupquake
Thanks for watching and I hope you enjoy it!
The post Portal 2 Cupcakes appeared first on iHasCupquake.