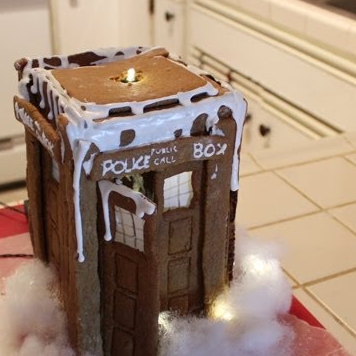 Hey Everyone! Today, I'm going to make something Dr Who related since a ton of you suggested it! Plus I've been wanting to make a gingerbread house so I decided to do a Dr Who Gingerbread Tardis!
We'll need:
Some gingerbread dough (I'm using a pre-made mix)
A rectangle cookie cutter
You should start by preparing the dough and refrigerating it for about 15 minutes. It makes it much easier to work with
These are the templates for the various parts of the Tardis
Let's roll out our dough and start cutting out the templates
Once we have the walls cut and on the cookie sheet, we can cut out the windows and make some designs on the walls using our rectangle cookie cutter.
I wanted a door on one of the sides, so you can cut that out before baking
While you wait for it to bake, you can ice the text that will go on top of the walls
After making our mixture of sugar glue, we'll begin gluing all the sides
Repeat on all four sides.
Be careful, it's extremely hot.
We're almost done! After you glue on the base and the top, we can add our signs to the sides the house
Finally, we'll add some icing decoration to our house
Towards the end, I also added some battery powered lights and a sign I printed out.
These came out awesome! This QnB was a bit more involved but the result is worth it!
If you try it, be sure to tweet me an image at @ihascupquake !
Hope you enjoy!
The post Dr Who Gingerbread Tardis appeared first on iHasCupquake.