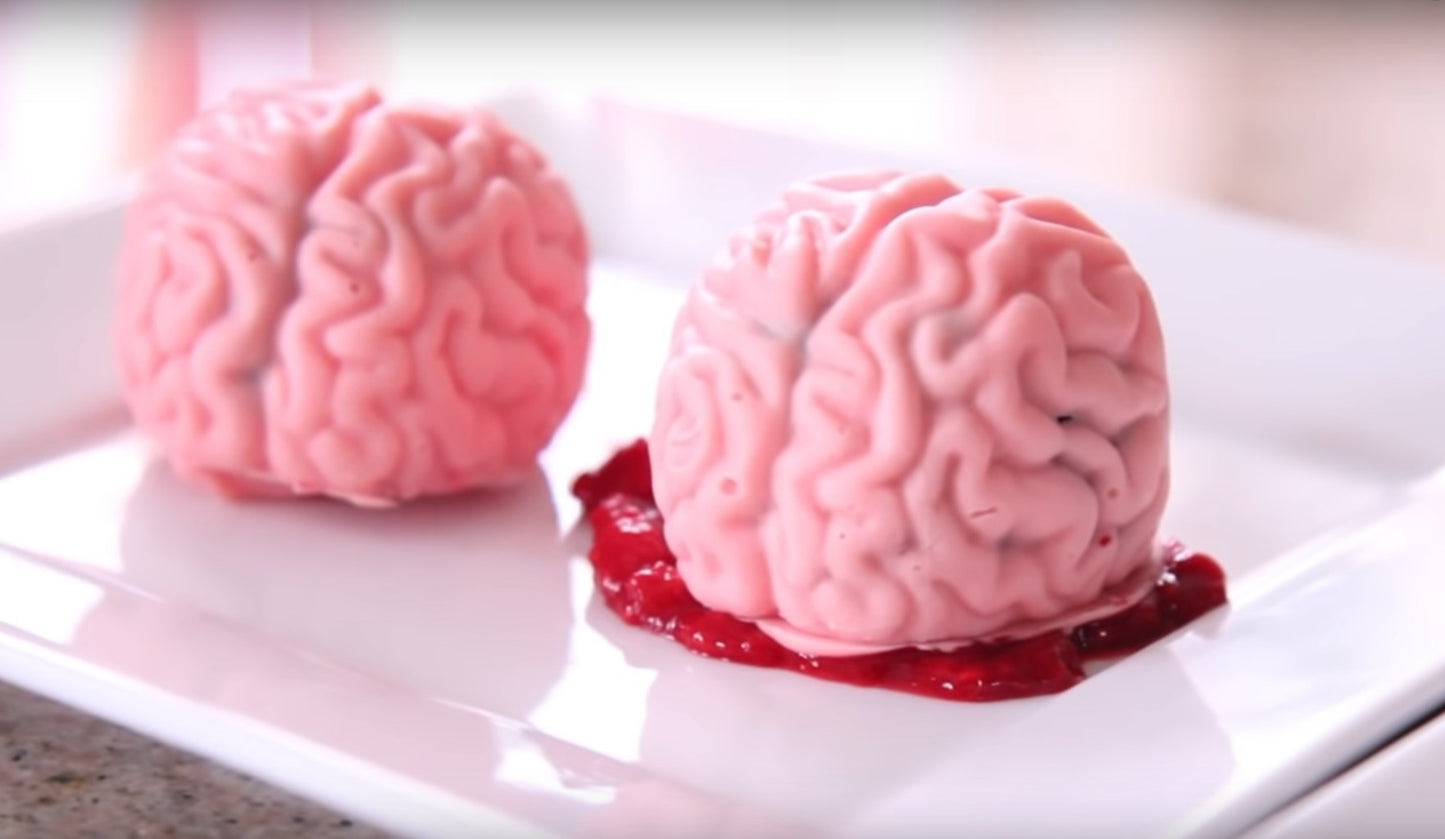 Hey Everyone! Today we're going to be making some Brain Cake Pops in Celebration of Dead Island! We have a special guest for this episode's QnB … AplFisher! He's going to help me make some awesome and tasty brain treats

Let's get started
You'll want your chocolate cake we'll be using to be already baked and cooled, since we're going to be using our hands to handle the cake
Get some pink candy melts and melt them down to a liquid (we're going to line our brain molds with this; you can get your brain ice cube molds from think geek – link in the descrip.)
Pour a little bit of candy melt in the center and line the inside edges with our candy melt – you should not be able to see any pink from the mold. We're making a shell to house our chocolate cake
It should look like this. Chill for 10 minutes in the refrigerator
Now let's get started on our candy blood! We're going to need 2 cups of red raspberries (cold), 1/4 cup of granulated sugar, 2 tbsps of flour, and 2 tbsps of lemon juice
Mix on low heat
Our next step is to crumble our cake (for the inside filling)
Add some icing into the cake and mix
Let's start pouring some chocolate into the mold (about half way). Then pour a little bit of our raspberry blood into it (be sure to leave some space, we're going to be putting more cake in)
Re-melt our chocolate candy melt and line the top with it
Let it chill in the fridge for 5 minutes
Now the hardest part … Let's gently take them out of the mold.
A BRAIN!
You can pour some blood around it!
We're all done! These taste immensely incredible! If you try this, tweet me an image at @ihascupquake or send a picture to our facebook fan page!
Thanks for watching!
The post Brain Cake Pops – Quake N Bake appeared first on iHasCupquake.