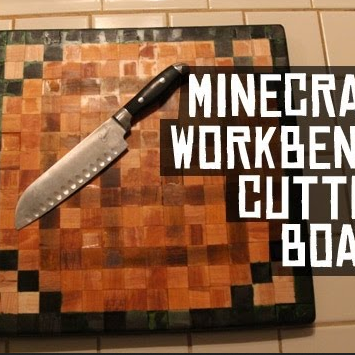 Hey Everyone! I have seen a couple of these pixelated cutting boards for sale and I thought, hmm I wonder if I can make them? I have a bunch of 1-inch wooden cubes that are similar to the ones they use so I decided to gather some food grade materials because we are going to be using this with food!
Let's get started
We'll need:
1-inch cubes
Titebond III glue (FDA approved for indirect food contact)
 And to tint the food, edible food dye (black, brown, and orange)
 Sandpaper but preferably a sanding machine (which will make it 10x easier!)
Some Butcher Block conditioner (this one is all natural and food grade)
Since we want the wood to be very tight, I strongly suggest you use a clamp
We're also going to need a paintbrush (never used with paint) to dye our cubes
I printed this image so I have a reference of how it all fits together
Here's the list of cube colors
Okay, let's begin! Start by gluing 16 blocks together. Make sure they are all relatively the same size because we don't want cracks where food could get trapped
Make sure there isn't any cracks. Don't worry if it's bumpy, we're going to sand it later
Once the glue is dried, let's begin sanding the surface of the wood (the edges too)
 We're going to start dying, and we're going to start with black. Grab a bowl, put a small amount of water, and some of the dye. All the edges are black so start painting the edges. Be careful with the amount of water you put because it does bleed a little
Let's paint some brown now. This brown is one part brown and one part orange so mix these accordingly with water. We're going to paint the center of our cutting board
Paint our second brown now; this one is straight brown. This one comes out a little bit lightly than it looks so mix accordingly. Use your picture as a reference to know which blocks to paint
You are now done with the colors so let it dry overnight and condition it the next day. Pour some butcher block conditioner and work it in/buff.
Let it sit for 20 min and then buff away. Do this 3-4 times to prep your cutting board for kitchen-use.
Condition every side, even the back side because we need to prevent water getting in
We're done! It blows my mind how great this came out! If you decide to try it, tweet me an image @ihascupquake
Thanks for watching!
The post Minecraft Workbench Cutting Board appeared first on iHasCupquake.