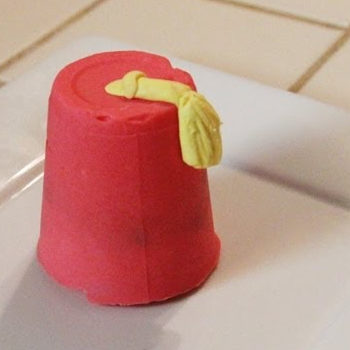 Hey Everyone! Today we're going to be making some Fez mini cakes! As some of you may know, Fez is an indie game that came out in April of 2012 and you play as Gomez, who discovers a powerful artifact that allows him to see a 3rd dimension.
You're going to need:
Some bath cups
Some candy melts
Pour your candy melts into a microwave safe bowl and melt them. Then pour some red gel dye to get the red color of the Fez hat
Apply some of our candy melt on the inside corners of our cup. So we're not going to pour it completely filling the brim rather just applying some on the edges
Now we're going to fill the cup with our cake mix! I'm using crushed brownies with marshmallow fluff but you a vary the cake you use
Put a fair amount of mix into the cup
Cover the remaining space with our red candy melt
Let's chill this for 10 minutes and while we wait, let's work on the Fez tassel
Grab some yellow fondant and roll out into an oval. Grab a plastic knife and make some indentations to make the Fez look like a castle
And a small oval also for the lace that hangs out
After the cup has chilled, grab scissors and make a small cut on the top. Then peel away the cup
On the top of our cake, drill a small hole in the middle with a toothpick
Place the small oval on top and fit in the hole. Then attach the large oval to it
And finally, use the toothpick to make the tassel indentations
Loved the way these came out! They're really easy to make and are delicious! If you decide to try this, I'd love to see it! You can tweet me an image at @ihascupquake
Thanks for watching

The post Fez mini cakes appeared first on iHasCupquake.