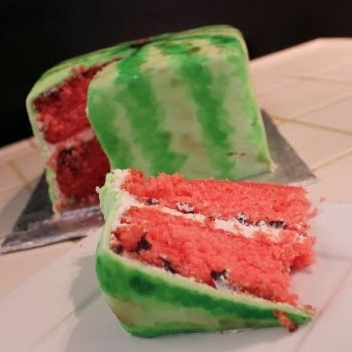 Hey Everyone! After many of your suggestions to make a Minecraft Melon Cake, I decided that it would be a great idea to try a new technique I've been working on

The first thing you're going to need is white super moist cake mix – you'll want to separate a small amount into a bowl before pouring the rest of the mix with the other ingredients
Then pour the remaining cake mix with our other ingredients (egg, etc) and mix well
To get our red watermelon color, we're going to be pouring some watermelon (or strawberry) jello mix into our other ingredients
After you finish mixing the red jello mix, pour about a cup of semi sweet morsels into your first bowl that has a small amount of cake mix. This will help give the illusion of seeds
Combine and mix
Pour your cake mix into two square pans
Bake it !!
While we wait for it to cool, mix two cups of buttercream shortening
In a separate bowl, mix water, vanilla, salt and butter and pour into your shortening (medium setting)
Now add four tablespoons of light corn syrup into your mixture
And two pounds of powdered sugar
It should look nice and fluffy now
Grab a piece of cardboard and wrap in foil. You'll need one cake sized and another slightly larger. Pull out the cake sized board and ice a little bit to ensure that the cake sticks to the board. Place cake on top
Ice the top and place your second cake on top
Now dirty ice the top of the cake and  all sides also. This helps the fondant stick to the cake
Place it into the fridge to cool and begin to roll out our green fondant
Place on cake
Wrap around and cut off the excess
We're now ready to decorate! The fun part!

Start by mixing green food gel with a little bit of lemon extract (or vodka if over the age)
Grab a clean paintbrush that has NEVER been used for paints
Paint the center (where the root would be) a circle and paint out from there (ala a start shape)
Fill in the empty spots and then go over the center and make darker with more green dye
Use some cocoa powder to darker some of the watermelon
Add a piece of a tootsie roll to the center as the stem (shape into circle)
You can also add some more green dye and cocoa powder for contrast
Vooooiiiiiiiila! These came out really incredible!!! As always, if you decide to try this QnB, tweet me an image at @ihascupquake
Thanks for watching!
The post Minecraft: Melon Cake appeared first on iHasCupquake.