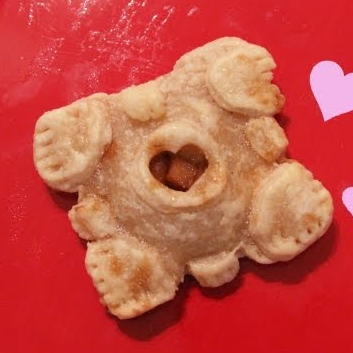 Hey Everyone! Today I wanted to do something very special for Valentine's Day so I chose to do some Companion Cube Apple Hand Pies! As some of you may know, the Companion Cube is the only friend you make in Valve's Portal.
We're making these from scratch so you'll need:
2 1/2 cups of flour
1/2 tsp of salt
2 sticks of butter sliced into little cubes
Mix together well ('Til it looks like coarse sand)
In another bowl, we're going to mix 1/4 cup of sour cream, 4 tbsps of lemon juice, and a 1/2 cup of ice cold water. Mix well
Slowly add into our main mixture/bowl
Flour a cooking surface and place dough/mixture on top
Roll into ball and clear wrap it. Once wrapped, refrigerate for 1 hour
While the dough is being cooled, let's work on the inner filling of the pie.
Grab a sauce pan and put in 2 tbsps of butter and two large peeled and chopped granny smith apples
Saute for 3 minutes then place 1/2 tsp of cinnamon and 1/3 cup of brown sugar
Then cook for about 2-3 more minutes
Place filling in refrigerator to cool and bring out our dough
Let's roll it out about 1/8 inch thick and cut the top and bottom of our companion cube using the cookie cutters bought from thinkgeek
Move onto cookie sheet. Now we're going to cut the four side pieces, four center pieces and one circle
Now place the side and center pieces accordingly and in the center circle, cut out a heart which will serve as ventilation for the pie. We are only doing the outer side – the other is the inner piece.
Now mix an egg with 1 tbsp of water. Wisk it together
Now grab a tbsp of your filling and place it in the center of your cube
Lift your top side and place over the bottom (with filling)
Brush on the egg/water (to help keep the pieces together)
Now we're going to grab a fork and crimp the edges (to better fasten the pieces)
Now for our last step, sprinkle some sugar and brown sugar !
Now you can bake it !! (15-20 min on 350 degrees F)
Any Valentine/loved one/gamer would appreciate these especially on Valentine's day! I hope you enjoyed this and if you try this, tweet me an image at @ihascupquake
Thanks for watching!
The post Companion Cube Apple Hand Pies appeared first on iHasCupquake.