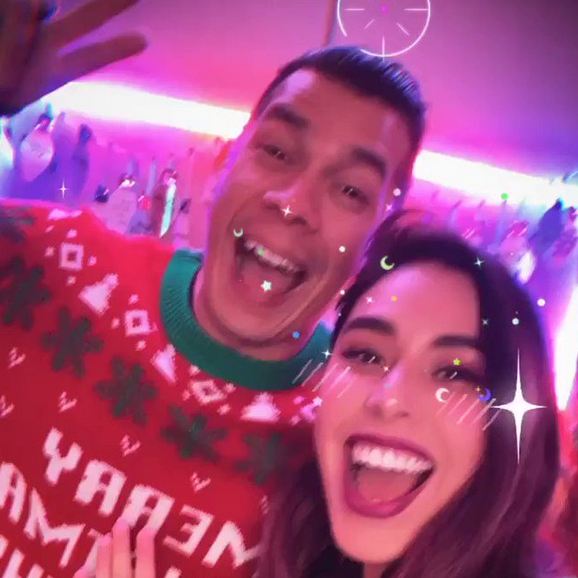 Rebecca (MamaQuake)
Tiffany's mom also doubles as the iHasCupquake Creative Assistant! On her days off, you can find her sewing up a storm. Sewing is her favorite hobby, because she finds it incredibly relaxing. Her favorite items to whip up are aprons and little girls' clothing (even though she doesn't have any little ones of her own anymore)!
She also enjoys playing board games (especially SCRABBLE), and her favorite app is Snapchat!!! She's always on it, mostly to see what her kids, family and friends are up to throughout the day. To her, the best part of Snapchat is making all of the different funny faces the app has to offer. It really brings out the goofy part of her! What she loves most of all, though, is spending time with her precious family. Whether they're all off on a fun vacation or visiting her at home, nothing makes her happier than when they are all together! <3
Antoes (Anthony)
Anthony is the team's visionary photog extraordinaire. While charming and delightful in person, he has been told that he is very random and a bit strange—follow him on Snapchat for a glimpse into his goofy sense of humor. You could woo him with conversation about Exploding Kittens, Steven Universe, or Overwatch over a lunch of no-cheese pizza or sushi. When he's not watching Netflix, he tries to divide his precious app-time evenly among Afterlight, VSCO, Elevate, and Bacon Reader.
An avid fan of podcasts, Anthony regularly listens to Reply All, Startup, Hidden Brain, Song Exploder, Ted Radio Hour, 99% Invisible, Mystery Show, and so many more! He's only a bit obsessed with podcasts. If his ears aren't occupied with the sounds of this week's latest podcasts, he currently enjoys the sounds of The Weeknd, Miike Snow, The Magician, Ed Sheeran, Chet Faker, Aluna George, ZHU and of course Tame Impala! He could tell you more about himself, but really everything you need to know is waiting to be witnessed on Snapchat.
David
Who is David? That's a hard question to answer that requires at least a 10 page essay in APA format — with references to medical journals and online blogs — but we'll give it a shot in one paragraph! ?
David is Red's younger brother, and he's pursuing his main passion, graphic design, by creating that magical artwork for iHasCupquake! He describes himself as a visual designer, conceptual thinker, esoteric adventurer, literature lover, apocalyptic dietitian, energy healer and nutritionist, to name a few. David is BIG on conspiracy theories (why EXACTLY do they have hand sanitizer outside supermarkets? Hint: It has to do with receipts). One of his latest interests involves healing tuning forks and their ability to balance the central nervous system, enhance consciousness or increase the auric field. He is definitely a great source of comedic relief here at the office and truly enjoys spending his time with all of these talented humans! ?
Danny
Danny is the baby bro of the family, and he assists with the video editing of ALL three channels (iHasCupquake, Tiffyquake and ToyBoxCollectibles)! He's enjoyed editing for Tiffany and Red for nearly a year now, and aside from his awesome editing skills, he is incredibly passionate about music. He plays the piano, produces electronic dance music under the name Dulreck and even DJs on the side!
Ever since Red passed his love for cars down to his brother, Danny hasn't been able to stop working on them in his spare time. He's also obsessed with collecting vinyls, Game of Thrones, reading and working out! (Fun fact: CATS are his favorite animal!)
Lewla (Lauren)
Lauren (also known as "Lewla"!) has been a close friend to Tiffany and Red for several years now. When they asked her to join the team six months ago to help write up original content, assist with creative input and handle customer service for their lovely fans, it was a no-brainer!
Since Lauren grew up attending ballet classes several times a week, dancing will always be a part of who she is. Wherever she goes, she dances! Whether it's rocking out at her desk or jumping around at a music festival, the fun never ends. When she's not writing at the office, she's filming and editing for her own YouTube channel, LewlaWasHere! Cool sunglasses are her favorite accessory, and chocolate hazelnut froyo will ALWAYS put her in a good mood. She's also proud to be left-handed! ?
Frankie (Francis)
Frankie was born on a brisk September morning in Lynn, Massachusetts just north of Boston. The hospital he was born in was eventually torn down and replaced with a popular grocery store. This fact may or may not have helped produce his affinity for irony and metaphor. Unenamored with the blistering New England winter, he would move to the preferable climate of Illinois to study Film at Columbia College Chicago. His pursuit of a writing career, and his acknowledgment of a band named Frankie Goes to Hollywood, led him to the city of Los Angeles. The other night he took his shirt off in the dark and saw static electricity—he nerded-out like the first time he got to drink the church wine. He's looking to rediscover that feeling on a regular basis. He comes to the iHasCupquake family with the hopes of conquering daily tasks while simultaneously inspiring lifelong affirmations.
The post MEET THE TEAM! appeared first on iHasCupquake.