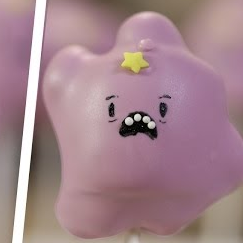 These treats are so Lumpin cute! As most of you may know I am a HUGE Adventure Time fan. Lumpy Space Princess has got to be one of my (and my husbands) favorite characters in the show. I decided to create a batch of treats in her honor. Heres a quick tutorial on how I made these sweet lumpin marshmallow treats!
Supplies Needed:


Marshmallows – Both large and small


Candy Melts – Both purple and white


Cake pop sticks


Yellow Star Sprinkles


Food paint brush


black oil based food coloring


small white sprinkles (optional)
Step 1: Melt the candy melts to a liquid consistency. I have added paramount crystals to help achieve the consistency I am looking for.
Step 2: Dip your cake pop sticks into the chocolate and stick them into the large marshmallows. This will act as the glue to keep the stick inside the marshmallow. Let the dry completely
Step 3: Now attach the smaller marshmallows to the larger one. Again, use the chocolate as glue. You can cut the smaller marshmallows in half so Lumpy's lumps wont be too big. Let it dry completely.
Step 4: Dip the whole marshmallow structure into the chocolate. Let it dry a bit but not completely!
Step 5: Before the chocolate completely dries, add the yellow star sprinkles onto the top portion of the marshmallow.
Step 6: With a clean brush and black oil based food coloring, draw on the face of lumpy space princess. If you want to get really creative here you can grab some small white sprinkles and use them as teeth or whites of the eyes! OH MY GLOB! DONE!
As always if you prefer a video tutorial enjoy the one below!

Did you create anything lumpin cute?! Submit a link to your project below and you may be featured on the website!! L&L – Cupquake
The post Lumpy Space Princess Marshmallows! appeared first on iHasCupquake.