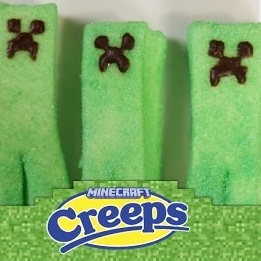 Hey everyone! Welcome to this week's episode of Quake N Bake

Today I will show you how to make Minecraft Creeps! Inspired by ThinkGeeks April fools joke, I turn this hoax into real life! These creeps are perfect for Easter baskets and Minecraft parties. We're going to be making these today so let's get started
Supplies Needed:


2 bags of mini marshmallows


2 cups of green sugar


9 ounces of chocolate morsels

Non-stick cooking spray


Coconut oil


Knife

Sauce pan/cake pan/bowl and wax paper
Step 1: In a saucepan, add a little bit of water (1/2 cup) and melt some marshmallows. Stir constantly, they need to be a running consistency
Step 2: Spray some nonstick cook spray on your cake pan
Step 3: Pour your marshmallow mix into the pan
Step 4: Sprinkle green sugar on top of your mix (You can create your own green sugar by mixing 2 cups of sugar with 20 drops of green water based food coloring). Let the marshmallow dry for an hour
Step 5: Flip over marshmallow on wax paper and continue to sprinkle more green sugar on the bare side
Step 6: Cut your Creepers and dip in green sugar on bare sides so the creeper is entirely encased in green
Step 7: Bring 1 cup of heavy whipping cream to a boil
Step 8: Pour 9 ounces of mini chocolate morsels into a bowl and once the whpping cream is boiling, pour over morsels to melt them. Mix well
Step 9: Cut creepers legs with knifeStep 10: Using the melted heavy whipping cream + chocolate, paint the creeper's face using a paintbrush you only use with food
And we're done! These came out cute and are easy to make!
If you decide to try this, tweet me an image or post it on our Facebook page!
Thanks for watching!
The post Minecraft Creeps – QUAKE N BAKE appeared first on iHasCupquake.