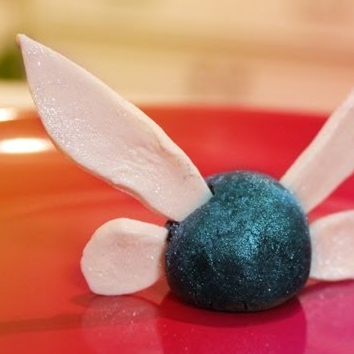 Hey Everyone! I was in the mood of making something Legend of Zelda related so I took the requests some of you had to make something with Navi in it. Thus, these delicious Navi Truffles were born!
Initially, you're going to need some Cool Whip and Vanilla extract. Pour 1 cup/8 oz of Cool Whip and 2 Tablespoons of Vanilla extract into a bowl and mix well
Grab a 12oz bag of semi-sweet chocolate chips and melt them down
Add your chocolate into the mixture
Mix until the ingredients form a thick mousse. It should look something like this
Refrigerate the mixture – while we wait, let's roll out some white fondant to make Navi's wings
She has four wings, two larger than the other so be sure to cut them accordingly with a clean exacto knife
Let's add some white pearl dust to make the wings sparkle and shine. Refrigerate to harden the wings afterwards
Add some unsweetened cocoa powder and work into the mousse. Once it's well mixed, roll the mousse into balls using your hands (add some cocoa powder into your hands for easier mixing)
Once you are satisfied with the balls, add some blue pearl dust to give them more of a Navi appearance
Once you are satisfied with the look of the balls, make four holes using a toothpick where Navi's wings will go – two at the top and two at the bottom. It will make placing the wings easier
Now insert the wings into their respective slots
All Done! These look great but taste even better! If you decide to make your own Navi Truffles, tweet me an image at @ihascupquake
Thanks for watching!
The post Legend of Zelda: Navi Truffles appeared first on iHasCupquake.