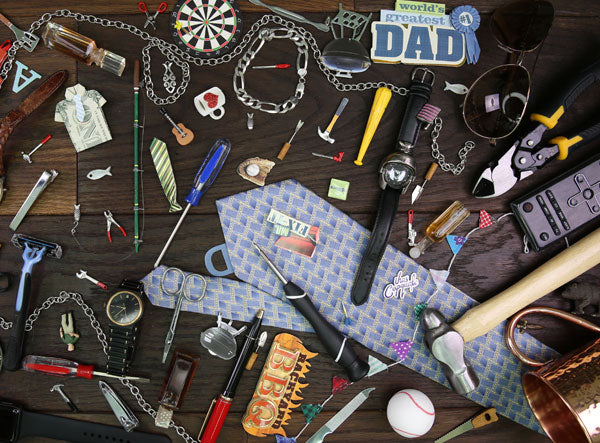 Wishing all the dads out there a Happy Father's Day! Thought it would be fun to use Father's Day as an excuse to do another iHas! As you can tell, I borrowed a bunch of my father's actual things! He has the world's tiniest toolbox! ( haha!)
Take some this weekend to send some love to your dad, or a father figure, or any person in your life who you know is a great father!
Now grab anyone of those people I just mentioned, sit down with them, and have fun seeing who can find all the hidden items in this Father's Day iHas puzzle!



 Tiff
iHas 8 fish caught with a fishing pole,
a spatula, an apron, and a remote control!
iHas 2 baseballs, but only one bat,
2 grills and a BBQ, can you make sense of that?
iHas a guitar, and money to wear, 
3 cologne bottles, and a grizzly bear!
iHas a dagger, an iHasCupquake pin,
a copper mug, a saw, and a #1 ribbon!
iHas 4 watches, 4 hammers, 4 ties,
but count my screwdrivers, I actually have 5!
iHas 2 dartboards with 3 scattered darts,
10 red tools, and a shimmering heart!!
The post A Special Father's Day iHas appeared first on iHasCupquake.