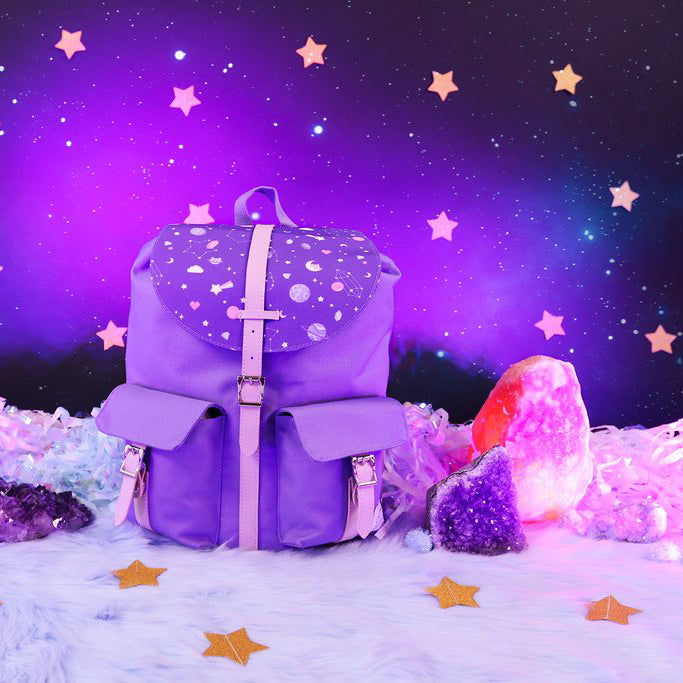 Get ready 'cause we are gonna take you to the moon and back, with this Galaxy themed look book! We recently came out with the spaciest accessories and clothing; without a doubt they have been our most favorite designed pieces and we just know that after you get a good look at this they will have you seeing stars!  So sit down, relax and enjoy this sweet escape to the moon!
Here is the star of the show, our Ultra Violet Galaxy backpack! This baby is the prettiest shade of purple you've ever seen, which is where it got its amazing name. What's even more amazing is that it will carry you and all your space junk on all your starry filled adventures where ever you go! 
 We would like to introduce you to Cosmo Caturn and he might be the cutest little creature in space. Actually no, that's not right ... maybe throughout the universe! Cosmo is green with 3 eyes and cute pointy ears, and loves to spend his time floating on top of little rings in space. There's also a rumor going around that he might even lay space glittered eggs!
Here is our What's your Esc T-Shirt!  This is the softest shirt with the cutest design of Cosmo Caturn. You will defintely need this shirt for your all your cosmic adventures and best of all, you'll always have Cosmo Caturn right by your side!
 Uh, I'm asking for a friend, but do they have WiFi in space?! If they don't have any fear we're here to save the day, here are the sparkiest earrings you'll ever need! On the plus side, you'll always have WiFi with you to phone home
 These are the Yin Yang Kitties. They are the stuck together until the end of time, but that's okay cause they go together like peanut butter and jelly. They are best friends forever! But most importantly they are a little reminder to find the balance between good and bad! 
Don't worry, if you get cold while you're here, we have you covered! We have the coziest beanie with the cutest planet embroidered onto it! The planet called Caturn is home to our sweet Cosmo Caturn. We hear the planet was docile and filled with fields of catnip and valleys of yarn balls, with hundreds of different brightly colored Caturns running around, just waiting for pets and boops, WHAT A DREAM! You can also pair it with the adorable pixel heart earrings, carry some love with you in space or even if you decide to visit Caturn someday.
Thanks for joining us on our adventure to space, we hope you enjoyed your stay and fulfilled all your cosmic dreams! If you'd like to check out anything in this look-book, Links are below.
Want more? How about creating your SPACE!
Here are some cute spacey things you can buy for your room!
Props used:
(Please note that the links above are affiliate links, and at no additional cost to you, We do earn a small commission if you decide to make a purchase after clicking through the link.)