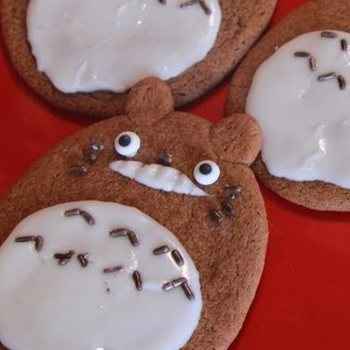 Hey Everyone! For today's Quake N Bake, we'll be making some Totoro Cookies! This is what you'll need:
Some gingerbread or sugar cookie mix, white royal icing, brown sprinkles, an oval cookie cutter, a tiny oval cookie cutter, and some edible eye balls (you can get some at Michaels)
Once we make the gingerbread cookie dough, it is going to be sticky so let's cover it with cellophane for 15 minutes so it's easier to work with
Flour a cooking surface and roll out some gingerbread dough. Take your oval cookie cutter and cut out Totoro's body
We're also going to grab the tiny cookie cutter and make Totoro's ears
With a spatula, transfer Totoro's body to a cookie sheet. Take the tiny cookie cutter and cut out half of the ear shapes and place the ears you cut out earlier
Blend the dough with your fingers so that there are no creases
Once you do this to the rest of your cookies, bake for 9-11 minutes
You are now ready to decorate – grab your white royal icing and make a circle up to the half way point of his body for his belly. Spread the icing with a toothpick so it is even
Grab some royal icing from his belly and make two eyes. Place your edible eyes on top
Again get some icing from his stomach and make a nose and six whiskers
Grab some tweezers and place the brown sprinkles on top of the nose/whiskers icing
Place some sprinkles on his tummy in the Totoro pattern
Now for our last stop, make his smile! Place an oval shape for his mouth and extend it to the center of his two eyes. Get your tooth pick and subtract some icing to form his teeth
We're all done! These came out really cute and are easy to make! As always, if you decide to try this, tweet me an image at @ihascupquake or leave a comment of the facebook fan page!
Thanks for watching!
The post Totoro Cookies! appeared first on iHasCupquake.