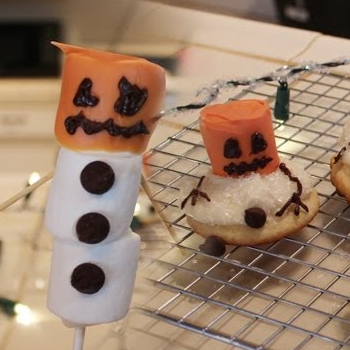 Hey Everyone! In keeping up with the upcoming holiday, we are making something Christmas related!
Many of you suggested that I make something that included Snowmen and Snow Golems so here we go

The first thing you'll need to do is bake some sugar cookies
Next, we'll need to melt some white candy melts. We'll need to make them orange, so you can either dye them or melt both red and yellow candy melts together
While we are waiting for them to melt, we can prepare the heads of our snow golems by sticking a toothpick in each one
Next, we'll dip our marshmellow heads into the orange candy melt. It does not matter if you do not get the bottom
Afterwards, get a microwave safe piping bag and we'll microwave/melt some chocolate in the bag
Snap the end of the bag and we'll begin making the arms to the snow men
Next, we'll start decorating the face of our orange marshmellow
Let's melt some white candy melt for the body of our snow golem
Once its melted, let's pour some of the running white chocolate on top of our cookies
We'll also add some white sprinkles, to make it seem more like it is melting and glistening in the sun
And finally, we'll add the head, some chocolate morsels and the arms to the golem!
If you don't want them to look like they are melting, I have a solution! You can begin by getting a white straw, adding some white candy melt to the stick, and sticking two marshmellows on top. For the head, we'll use our already assembled heads and add some decorations
These came out really great! As always, if you decide to try these, be sure to tweet me an image at @ihascupquake !
Thanks for watching and be sure to comment what you want me to make next week!
The post Minecraft Snow Golem Cookies and Golem Pops appeared first on iHasCupquake.