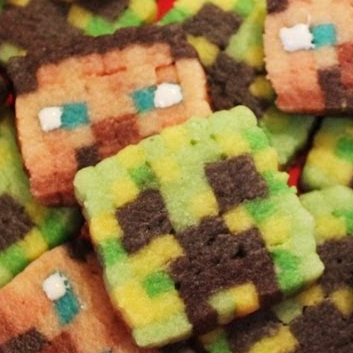 Hey Everyone! Today's Quake N Bake has been a long time coming – Thank you everyone for requesting this one

Plus it comes just in time for MineCon!
Before we get started, I suggest printing out a picture of both a Creeper and Steve. It will make it easier to build the dough and mix the colors
Next, we'll need to separate the dough and mix the color
The Play doh Fun Factory with the square setting is a life saver!
After refrigerating the stripes, we will start building the cookies!

Use your image as a reference guide
Once the dough is all mixed and colored, we start getting a hint of how the final cookies are going to look
Creeper and Steve are ready for the oven!
Reminds of sushi for some reason :3
Although these took a little bit more time than usual, the results are well worth it! I love the way these came out

Thanks for watching and be sure to tweet me an image if you decide to try this week's QnB at @ihascupquake
The post Minecraft Creeper and Steve Cookies appeared first on iHasCupquake.