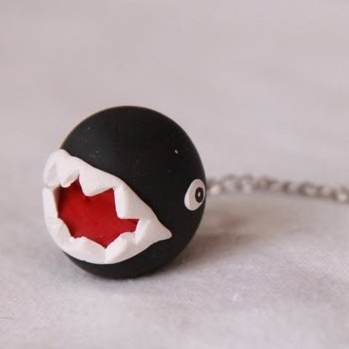 Hey everyone! For today's DIY GG, we're going to be making some Chain Chomp Keychains! As some of you may know, chain chomp comes from the Super Mario games (he use to terrify me when I use to play as a kid :p ). Let's get started!
You'll need the following items:
First, you'll want to roll your black polymer clay into a perfect circle and cut out a pie shape
Now take your head pin and stick it all the way through (the center)
Take some of your red polymer clay and insert inside it his mouth (leave a little black along the edge to put the teeth in later)
Grab a small amount of gray clay, roll into a ball and push it through the rear of the head pin. Then flatten the ball
Get a strip of white clay and measure around chain chomp's mouth. Cut off the excess and start cutting and forming his teeth
Place in the teeth
Put some circles for chomp's eyes
Baking time !! (Refer to your clay's manufacturer's instructions for baking time)
Cut the head pin and use your pliers to make a loop for the jump ring and keychain
Put on the jump ring with keychain and close the jump ring with your pliers
Attach another jump ring and a key ring to the other side. Don't forget to Sharpie in chomp's eyes
We're all done! These look amazing on a set of keys! If you decide to try this tweet me an at @ihascupquake or leave a pic on the facebook fan page!
Thanks for watching
The post How to make a Chain Chomp Keychain – DIY GG appeared first on iHasCupquake.