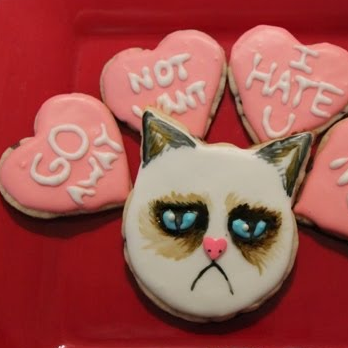 Hey Everyone! Happy Valentine's Day to you all! I have an incredibly special treat for you today. I was going to buy Red some Grumpy Cat cookies but they were all sold out

Luckily, I decided to overcome this minor obstacle by baking my own for our first Valentine's Day together!
I already pre-made my sugar cookie dough, adding some chocolate morsels in the process
We'll be using three cookie cutters today (two if you use the heart for the ears also): A circle, heart and triangle
Let's start by cutting out our various shapes to assemble our cat
Once you have all the pieces cut out, start putting them together. You can blend the cat's eyes with your fingers
Let's bake these little guys
While we wait for them to cool, make your royal icing. I put a link in the description of the recipe I used
I made two whites (one more fluid), one blue, and two pinks (one more fluid also)
Start icing the base of your cookies (white for grumpy cat and pink for our companion heart cookies)
Let them completely dry before decorating them any further.
Next, let's start icing our heart cookies. We're going to pipe on negative valentine sayings, because, grumpy cat had fun once and it was awful!
For grumpy cat, we're going to be mainly using black and brown gel dyes. Pull up an image of grumpy cat and use that as a reference.
Use a paintbrush that has never been used for paint.
Let's begin by painting the ears black
Let's start painting the eyes. They are flat and we're going to outline them with brown. Let's begin painting the general shape of the nose also with black
Add some more black towards the nose and add some light brown around his eyes. Go from light brown to a darker shade which will give it a more realistic appearance of grumpy cat.
Add a dot of royal icing and place a heart sprinkle for his nose. Paint his upside down smile
Paint the iris blue
And we now have Grumpy Cat cookies! Words cannot express how happy I am with these cookies! Red loved them!
If you decide to try this tweet me an image @ihascupquake
Thanks for watching!
The post Grumpy Cat Valentines Day Cookies appeared first on iHasCupquake.