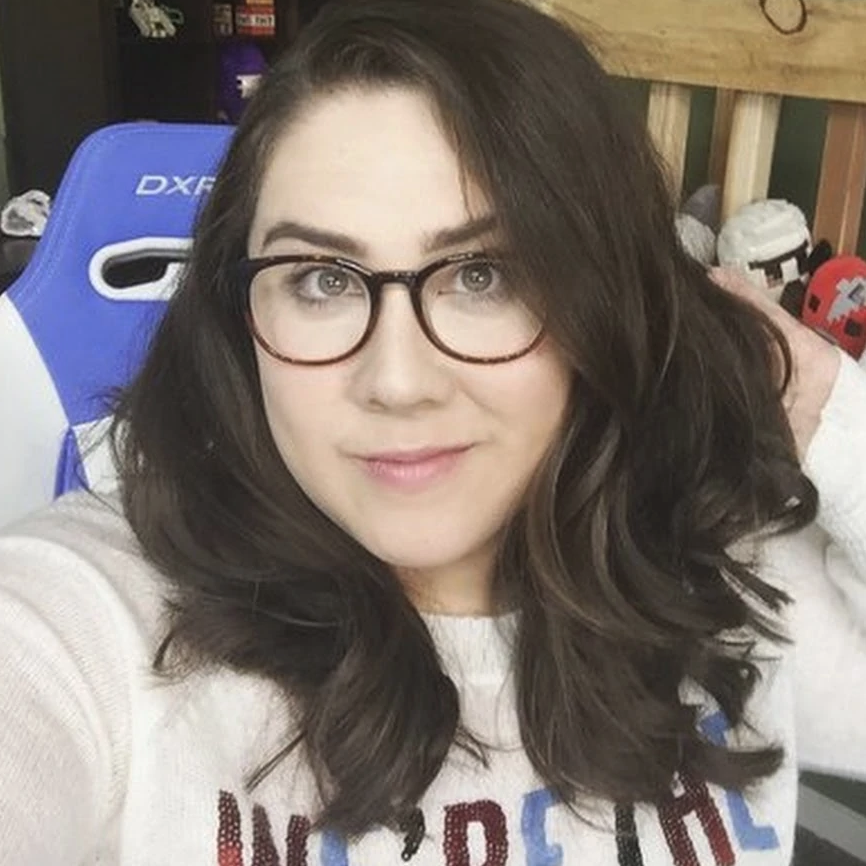 I recently had the opportunity to interview one of my good gamer girlfriends — the one, the only: Stacy of StacyPlays!!! This girl is the coolest. The very first time we collaborated, we got along so well and it was an instantaneous friendship! We even had a mini-series together called "Diversity" where we played a Minecraft map and swapped a ton of fun stories in the process. When she asked me to share a booth with her at this year's VidCon — it was a total no-brainer. Red and I are so excited and can't wait to see everyone there!
Today we dive a little deeper into the world of StacyPlays, and I even found out some new things about her myself! Take a look!

Cupquake: What are some of the first games you ever played? Was there anyone in particular who influenced your passion for gaming?
Stacy: The first video games I ever played were on an Atari that was at my grandparent's farm. It had all the classic games like Pac-Man and Space Invaders, but my favorites were called Outlaw and Adventure. When I was a teen, my mom gave me a Game Boy (she called it a Game Girl) and I played Donkey Kong Country, Donkey Kong Land and Super Mario Land. My mom was probably the most influential in my passion for gaming. When I was really little, I loved to read with her, but when I was a teen I went through a big phase of gaming and reading comic books. We would play games together when I got home from school, first on the Game Girl and then on the SNES where my favorite game was Yoshi's Island.
CQ: When you were a little girl, before the world of YouTube, what did you want to be when you grew up?
S: I wanted to be a paleontologist. I studied everything I could about dinosaurs growing up and watched Jurassic Park probably over a hundred times. I even took advanced prehistoric invertebrate courses when I was in college, even though I was majoring in journalism, and got to go on a dinosaur dig in Southern Utah.
After college, I started working for websites as a Search Engine Optimization (SEO) writer and eventually ran teen entertainment websites like JSYK.com, Cambio.com and Teen.com. I've interviewed Taylor Swift, Emma Stone, Nick Jonas, Justin Bieber, Kristen Stewart and many more. In 2012, I started hiring YouTube stars like Tyler Oakley and Joey Graceffa to interview celebrities and that's how I got into the YouTube world.
CQ: Who have you had the most fun collaborating with so far? Why?
S: You, of course! I absolutely loved our Diversity 1 & 2 series. They were so much fun to film.
CQ:  If you could game with anyone in the whole wide world, who would it be, and why?
S: I would want to play Minecraft with my dogs. I think it would be interesting to see what Page and Molly would actually do if they were in the game.
CQ:  It's hilarious and adorable that you call your fans "Potato Flakes". How did you come up with that term of endearment?
S: Whenever I visit my grandparent's farm in Idaho, there is a dairy nearby called Reed's Dairy that makes the most delicious chocolate milk. They actually put potato flakes in the milk to make it more creamy and I thought that was so funny and referred to my viewers once as "adorable little potato flakes" and the name stuck!
CQ:  You also vlog quite often on your second channel, StacyVlogs. Can you talk a little bit about the balance you've found when it comes to gaming videos vs. vlogging videos?
S: I'm trying to vlog more on my StacyVlogs channel — those videos are just about my personal life outside of gaming. It's mostly hanging out with my animals, renovating my cabin and going on trips. I post vlogs on my gaming channel that have to do with conventions I go to or Q&As about my gaming series. My gaming channel is almost more like a TV channel where I have set series that come out on different days. But on my vlog channel it's whatever I feel like vlogging.
CQ:  Aside from gaming, what are some other fun hobbies you use to disconnect and just relax?
S: I am incredibly boring when I'm not playing video games. I take my dogs for walks, watch a lot of YouTube videos, and obsess over what furniture to buy for my new cabin.
CQ:  VidCon is right around the corner! How many VidCons have you been to so far? What are you most excited for this year?
S: This will be my fourth VidCon, although technically I was working in the YouTube industry in 2012 and sent reporters to cover VidCon that year, but didn't go myself. I am doing a 5-hour signing this year and I think I'm looking forward to that the most.
CQ: What do you think our fans can expect from the two of us sharing a booth for the first time?
S: Adorable merchandise! I will be debuting a brand-new poster at VidCon that won't be on my merch store for another month or so. I'm really excited to see if viewers like it — it's based around my Minecraft series Dogcraft.
CQ:  You have been doing YouTube full-time for three years now. What have you found the be the most challenging?
S: The most challenging part is that you never take a day off. Weekends, holidays… I post a video (or two) almost every single day. It can be pretty overwhelming, but it's so much fun I don't mind it at all! I might have to take a long vacation in January though.
CQ:  What advice would you give someone who aspires to be a full-time YouTuber?
S: If you want to do it because you want to be famous or you think you'll make a lot of money, that's the wrong attitude. I do it because I like working for myself, having total creative freedom and I get to make people happy every day. Being "Internet famous" just goes along with it.
CQ: Do you have any future goals set for yourself — either on or off of YouTube?
S:  I would like to publish a book based on the characters I'm creating in my Minecraft series. It's something I'm hoping I can do in the next couple of years.
The post A Q&A with StacyPlays! appeared first on iHasCupquake.