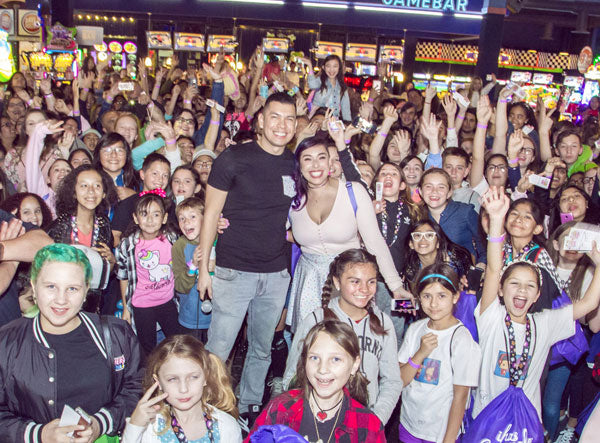 You guys! It's been a few days now and I honestly can not stop thinking about #iHCiRL! When the team and I started discussing plans to throw a party we really weren't sure what to expect — whatever those expectations came to be, #iHCiRL surpassed them all!
In the weeks before the event, as we watched the RSVPs roll in and then sell out, it became clear that the event was going to be special. Planning our first-ever fan appreciation event came with a lot of unknowns but without question the energy and love that poured through into the venue on Saturday exceeded anything we could have ever hoped for!
From getting to meet Spencer through Make-A-Wish, to playing games with multiple lucky fans, to seeing all of your outfits, and getting to meet each of you at the much-anticipated meet and greet, the day was full of fun and surprises. By the time I got home my cheeks hurt from smiling so much.
Thank you to all of our fans who trekked from all over the country to see us and a special thank you to all those parents and guardians who trekked with them — it truly means everything to us. We appreciate you!
We could not have accomplished this event without the support we received from HyperX, Mattel, tokidoki, Murphy Management & Event, and Children's Miracle Network! Many thanks to them and their individual staff members for helping put various aspects of the party together!
#iHCiRL was such a rewarding experience… who knows, maybe the first of many?

Until then, SPREAD LOVE. STAY SWEET.
The post Still Thinking About #iHCiRL appeared first on iHasCupquake.