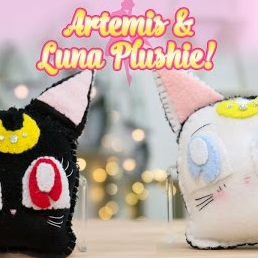 Hey everyone welcome back! I wanted to create one last DIY before the end of the year so I thought this would be a perfect chance to make something sailormoon / cats! Today I will show you how I made a double sided Luna & Artemis plush. I made this with the help of my mom and it is one of my absolute favorite DIY's! For this tutorial you will need a template.
This template is to size for our plush that we made. Just print it out, cut out all the pieces and your ready to go! For a more detailed tutorial I created a video for you all to follow and help you along the way!
I hope you enjoy this project!
-Tiff
The post Luna & Artemis Double sided plush (FREE TEMPLATE) appeared first on iHasCupquake.