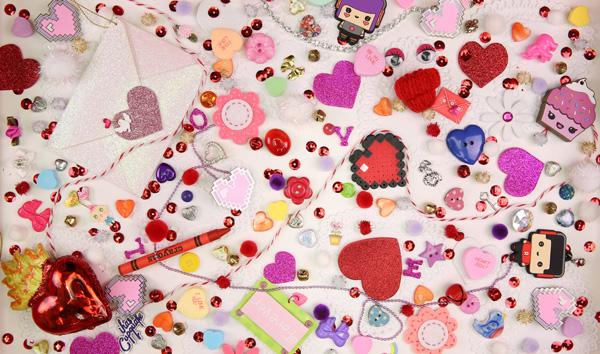 Everyday should be filled with love! As we get closer to Valentine's Day we should find ways to make love and happiness part of our daily routines. And not just the romantic, sappy type of love, but love of all kinds. You never know how much a small conversation or a simple hug can uplift someone's day. Sometimes all it takes is a smile.
So for the all of this month, and even this year, we should do better to seek out love in all its forms. Not just on Valentine's Day but on every random day. Here's to spreading more love and acceptance in 2017!
To celebrate the season of love we made another iHas puzzle for you to enjoy! This one comes from the heart. See, what I did there?

Follow the riddle and find all the hidden pieces and then go out into the world and find all the love that you can!

 Tiff
iHas two eyes with a big knitted nose,
five pixelated hearts and three decorative bows.

iHas a red crayon and an elephant as well,
a baby with balloons, and nine golden bells.
iHas a heart beat, a bird, and a dove,
and iHas two letters; one sealed with love.
iHas eight orange hearts and iHas Forever,
an iHasCupquake pin that you'll find if you're clever.
iHas a diamond, the word LOVE seven times,
and iHas a key with a heart for my Valentine!
The post An iHas Filled with Love appeared first on iHasCupquake.